A family holiday with Bruce 'The Boss' Springsteen
Musichoir in 2017
(Composed 28th
December 2016)…thoughts
A Happy New Year to you dear Musifamilies,
Being childless, means we travel reasonably light. With it being an even-numbered year, the holiday period between Christmas & New Year belong to Mr Musikids' side of the family. A week by a beach on the S.A. coast was in store, so a case of vino, fresh produce from the garden, a small bag of beach attire, the trusty old Musikids iPod, a few CDs for the car, a favourite pencil to write with and some reading material are packed. However, the lemons & zucchini didn't make it past the checkpoint at the Vic/S.A. border. Silly us!
In went a recent purchase: Bruce Springsteen's memoir "Born to Run". There was plenty of room for the laptop, but it didn't get a second look at the time of packing. Four days in, the book is half read, the voice sounds less scratchy and the tempo of conversation has slowed by 5-10 bpm. Words also seem to fall into place and the mind is certainly less scrambled. There is a lesson found here already. A 'holiday' is different to 'travelling' as 'hearing' is to 'listening'. I like holidays.
Those holiday days at East's Beach, Kiama remembered in the last Musinews, produced great goods for yours truly. The only 'pocket money' the Pyle children received was $1 each school week to deposit into the Commonwealth Bank account (through the school). I loved watching my little bank balance grow. In the 1970's and '80's, bank tellers would write your deposits and balances by hand.
At the end of year seven (1984), I was considered responsible enough to use some of my savings. While holidaying in Kiama in January 1985, we would shop at Shellharbour Square. It was a small shopping centre then. At Kmart, my prize sat on the shelf with a price tag of $416. It was a shiny, perfectly red, Sanyo stereo system with detachable speakers, turntable, amplifier, tuner and of course…without a doubt…a double tape deck with recording ability! The latter component a teen of the 1980's could not do without!
This unit was my pride, gave me joy and took me to places and insight into the lives of characters in the songs penned by my heroes, like Bruce. Unfortunately I learnt about its' premature death after coming home from teaching one Saturday in about 2004. It ended up as landfill at the Corowa tip. I'm not very good at giving someone a lengthy bout of silent treatment, however the receiver had no choice but to take this during a long mourning period.
In the following January of 1986 at Shellharbour Square, I purchased a box set (3 cassette tapes) of the Bruce Springsteen 1975-1985 live recordings. The music of Springsteen's collection prior to 1985 could arguably be his best. Like many of us who are keen followers of a few artists, we tend to like their 'early stuff'. Well, I listened to those tapes over and over. I hadn't heard many of the original tracks. Only those off "Born in the USA" (1984).
A good writer tells a story, helping the reader to draw visions of the characters and environment in which they live and grow in. Bruce is doing a good job of it so far, as I cross the halfway mark. I don't like things in my ears, but early this morning while the house slept through a wild storm tormenting Adelaide, I collected the 10-year old IPod Classic Touch and scrolled round to the handy collection of The Boss' and listened to "Born to Run" a few times. After reading about the recording process (released 1975), the musicians, and his 25 years of life to date, I hadn't heard it like this before. Gaining information about the song and how it was created gave it a completely new meaning than the memory of me lying on my bedroom floor listening to it on my red Sanyo stereo. Now I was creating a new memory through new information and Bruce's own words –his interpretation of that moment in 1975 changed everything. I looked forward to reading more.
A couple of nights ago, Mr Musikids' brother, and the Musiteacher got their ukuleles out to play. Bro kindly restrung my 1930's Hawaiian instrument with new gut strings that made it sound warmer again. We strummed out "Ain't She Sweet". Last night the Irish ballads were exposed that inspired Mr Musikids' father to break into song, developing some confidence after "A Pub with No Beer". Our music making and togetherness encouraged Mum & Dad to stay on an extra night and day, one may assume. Playing. Singing. Listening. Music. The power of it to bind a family is a truly amazing thing. Mr Musikids' father proceeded to tell us stories related to his musical experiences: the dances, the songs, the characters. It certainly was an education!
Bruce's passion for Music is evident as he exposes his feelings of events, moments and stories of characters and family members that have shaped him. He uses it to empower his readers and his fans with good times and pleasurable experiences. It has been pleasurable to share music with Mr Musikids' family. The rewards are a bounty for all of us. How good it made us all feel! Which IS the point.
Learning the stories behind things such as a simple song, piece of music, artwork, stage play…anything (!) allows us to connect to it emotionally. An emotional connection aids memory, fulfilment, enjoyment, better learning outcomes, better emotional health etcetera, etcetera.
Get my drift?
 Afterward 1: The next day, Mr Musikids' father produced a pile of old small song word books which we browsed through, sang, and talked about together for some time. As he had not sung for quite a while, the Musiteacher suggested singing a song a day. We learnt that once upon a time he played the ukulele. It was decided one will be sent to him after New Year to accompany his singing. May it bring him joy to look forward to every day and lift the spirit!
 Afterward 2: A uke was sent, and received, and is being enjoyed by Mr & Mrs. We may even expect a visit in May. What a fantastic moment to look forward to. The Musiteacher finished Bruce's memoir learning that he is a lot like us, struggling with issues that humans struggle with. He just has a stronger passion and drive that could be deemed selfish. It depends on how you look at it. In addition, I went out and purchased most of his material prior to and after the album "Born in the USA". It's all the Musiteacher has been listening to.
---
2016 MUSIKIDS PHOTOBOOK
A photobook of 2016 happenings at Musikids has been put together. The version in the flesh will be housed in the Musikids foyer. You can also view it online here!
---
MUSICHOIR IN 2017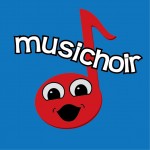 Musichoir is a new class on trial for 2017, held on Monday afternoons 4pm – 5pm, suitable for school-aged children. Musimum Anna will be the Musichoir accompanist, which will allow the Musiteacher to guide the children. The cost of $100 per term includes the class, all music resources and the organisation of public performances.
It has been proven in so much of the new and old research, that shared learning experiences between parent and child are the best experiences to build the strongest of foundations. We see this every day at Musikids, and will see this continue in Musichoir where the child sings alongside siblings and other members of our community. Here are just some of the benefits:
With members singing in time in a shared environment, their heartbeats learn to regulate by beating in time. It has been proven that this helps keep hearts healthy and improve lung function.
Choir members may arrive tired, but always leave revitalised and happy. This may be because oxytocin levels are boosted, or cortisol levels are lowered, which helps to control stress, anxiety and lessens the feeling of loneliness.
Greatly improves listening and strengthens brain function to focus
Helps children with speaking (diction)
Feeling a sense of belonging/togetherness
Joining a choir can help children and adults alike in so many ways. If this sounds like something for your child, please complete the Online Enrolment Form. If you know of another child this may benefit, then please pass on this message.