Pre-schoolers & Foundations/Kindergarten
Semester 1

&

Semester 2
45-60 Minute class for each 16 weeks
 (includes family sharing time of 10 minutes)
Using a small-group approach to music education, Musiglocks provides a pressure-free class where your child can develop a strong musical foundation by learning the concepts, language, notation, and vocabulary of music and a little about its greatest composers.
This program is designed to prepare the young child who is eager for first experiences with musical symbols and instrument discovery but is not yet ready for formal lessons and traditional music reading with an instrument. Parents or caregivers are to attend the last 10-15 minutes of class.
At Musikids, we provide a two semester, over a 1-year period, Kindermusik for the Young Child program. This is the program that the children are advised to complete (1 year) before they begin the Musikeys class.
We also take home a little bit of 'homework' to complete before our next class. You may be required to bring a sounds source in, or practice drawing our ti-ti's, ta's & rests! We are getting ready to learn to read & write music!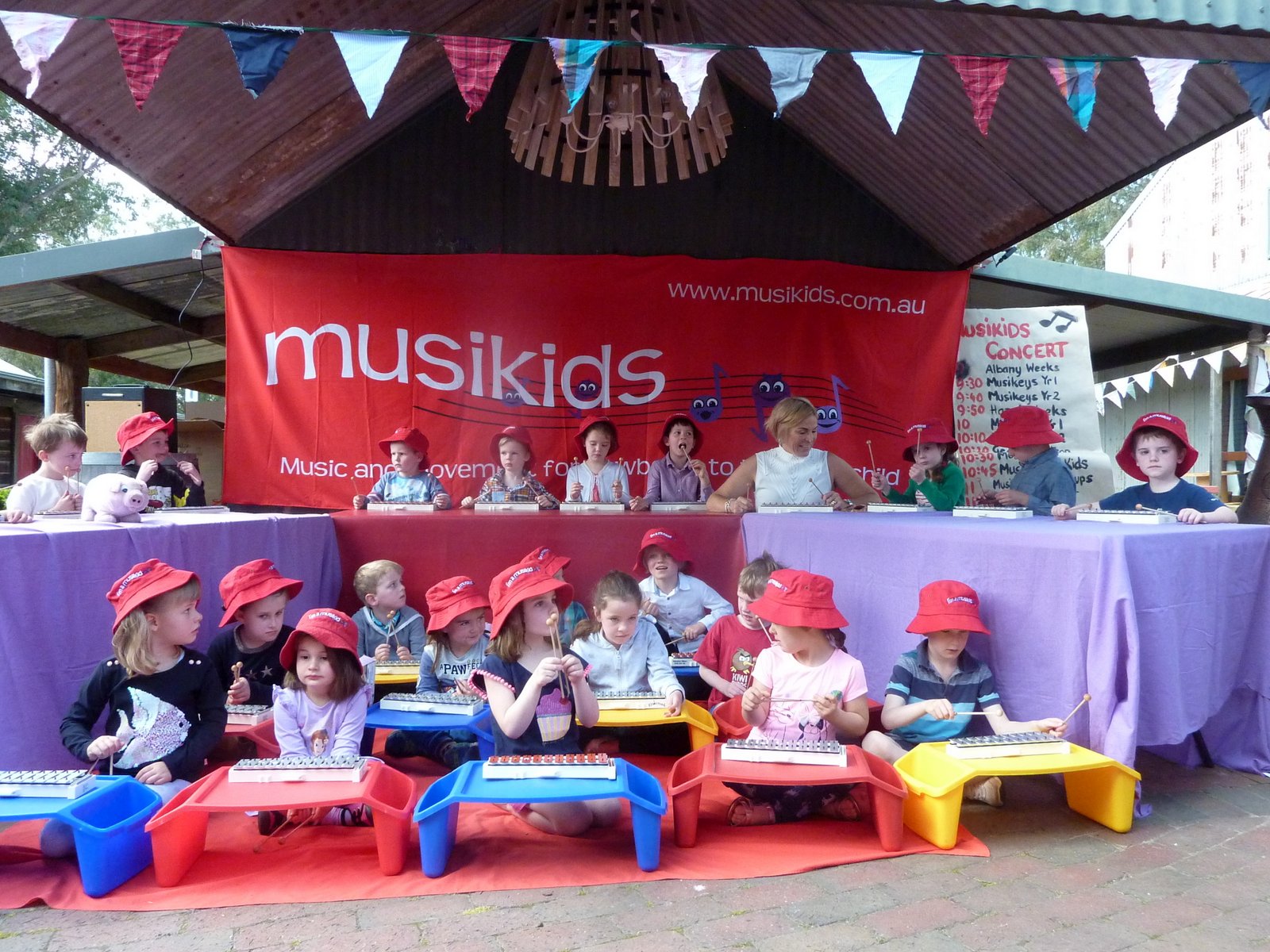 What is the content of each semester?
Semester One
Everything your child learns later next semester and in Musikeys keyboard classes begins with this early introduction to singing, reading, and writing music and rhythm. Through dances and games that focus on rhythmic development, we will learn a keyboard instrument—the glockenspiel—that will be used throughout all the Musiglocks classes from the end of Term 2. Your At Home Materials provide the music, instruments, stickers, and activities for a home version of the same playful activities you'll hear about from in class, so your child—and you!—can learn where you're most comfortable: at home.
Semester Two
Playing simple musical patterns and songs on the featured instrument from the first session—the glockenspiel—is a central focus this semester. While learning to sing a melody, and then play the pattern on the glockenspiel, we will delve deeper into the understanding of musical concepts such as piano and forte through orchestral-style music such as the William Tell Overture and Peter and the Wolf. Music appreciation and understanding continues with a complete introduction to the instruments (and the families in which they are grouped) of the orchestra. We perform together on stage at the Wodonga Children's Fair, at Gateway Village open mornings on Saturdays and prepare for our end of year glockenspiel concert. Although not all of us are performers, we offer these performance opportunities as a means to an end after rehearsing, which has proven to be valuable in assisting with self control, confidence, furthering listening and performance skills, to name but a few. This program is so valuable to the young person approaching a more focussed music style of learning as in the Musikeys course.
What A Parent And Child Will Experience In Class:
Singing and vocal development — It may sound like a foreign language when a child sings "ta" and "ti-ti," but this is the language of professional musicians and composers and getting young children ready to read and write simple rhythm patterns.
Movement — See children dance expressively to music, giving them the practice they need to coordinate their body movements to the sound of music. This kind of musical play not only improves musicianship, but physical coordination as well.
Reading and writing — Young children will learn melodic notation and identify pitches such as the C, A, and D notes on the treble clef, plus rhythmic notation. Eventually even composing their own music.
Focused listening — Children will learn to identify a range of orchestra instruments and their sound qualities, while also gaining an early awareness and knowledge of composers and masterworks in Western arts tradition.
Exploring and playing musical instruments — Authentic percussion, string, pre-keyboard, and woodwind instruments expose children to the many choices for future musical study, and at the same time provide them with the opportunity to musically succeed before taking on more formal instruction.
Enrolment includes:
Developmentally appropriate curriculum for children in their pre-school year, whilst caregivers attend the last 10-15 minutes
Two 16-week semesters
Weekly 45 – 60 minute class
At Home Materials:
2 Illustrated family songbooks
Games bag/Rhythm sticks/Note chips
2 CD's
Glockenspiel
Purple carry bag
*Still unsure which class to enrol your pre-schooler or first school timer into? Musiglocks or Musikeys? Find answers here!