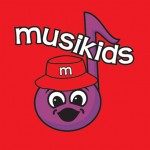 3 years & 4 years
45- 50 Minute classes for 16 weeks 
(includes family sharing time of 10-15 minutes)
At Musikids we pride ourselves on our ability to understand and communicate with this group of creative thinkers aged 3 and 4 years. These little troopers arrive with a smile, lots of conversation and a home activity that they were asked to do with the family at home that week, and leave Musikids with a song and a new beat – all in safe fun!
The Kindermusik Imagine That program, the program we use for this stage, continues creative musical development while building on preschool learning. To foster fine motor skills, more instruments are introduced, as the children are encouraged to handle them with care. Basic elements from the concepts such as rhythm, pitch, and timbre are developed. As expressive language is just beginning to emerge, exploring the use of the voice develops their singing voices as well as vocal expression.
The parent and child participate together in the last 10-15 minutes of class during Sharing Time, where they'll also learn about the Kindermusik Imagine That Home Activities they can enjoy together throughout the week.
What a Parent and Child Will Experience in Class:
Pretend Play — Pretend play activities are integrated with music, vocal development, storytelling, listening, movement, and literacy aspects of each class. When based upon a child's real life experiences, pretend play helps develop language, sensory, motor, and cognitive skills.
Musical Variety and Singing — Activities include a mixture of musical genres and styles and provide a setting for children to explore their many voices and to use a "singing voice." Singing helps with memory and recall, physical development, creativity, and socialization.
Storytelling and Literacy — Each class is built on the development of a story, so you'll hear pre-schoolers search for the word to say what they mean and try to keep up with their busy minds, emerging wants, needs, likes, and dislikes.
Parent Involvement — Pre-schoolers are learning to be self-sufficient in a group setting of peers, while many times still needing the emotional security provided by a parent. The pre-schooler experiences both in Musikids. Caregivers participate in the last 10-15 minutes of class. Plus the At Home Materials ensures the learning continues at home with each child's best teacher—the parent!
Enrolment includes:
Developmentally appropriate curriculum for parents and pre-schoolers, ages 3 & 4 years
16-week semester
Weekly 45-minute class includes a variety of activities, with the last several activities in class shared with parents
One set of At Home Materials
At Home Materials:
Backpack
2 CDs
2 storybooks
Activity Book
Kindermusik instrument
Playset and/or manipulatives