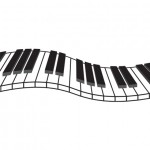 In Musikeys classes, keyboards are supplied for Musikids students to use in class. The packing away of keyboards is a family affair with all siblings chipping in with the help. It sets a good example for class coordination in future, preparing the siblings for when it is their turn.
At home, a keyboard or piano will be required, to prepare the family immediately after the first lesson. For the benefits of what is taught in the first class to take full effect, the instrument should be placed in a communal area from DAY 1. This space should be comfortable, well lit and where the child feels happiest playing. With a safe and happy environment comes solid learning, and the enjoyment of practise.
What to look for in your package when purchasing a Keyboard for home
A portable keyboard (not a mini keyboard)
The Yamaha PSR E243 keyboards we use in class are suitable. Our music stores may have this model, or a more recent one.
At least 61 full sized keys
Preferably, not touch sensitive. Keyboards with weighted keys are popular now because we think we need to find something as close to a piano's touch as we can get. Realistically, nothing feels like a piano than a piano itself, and all pianos have a different touch or feel. Small hands have fingers that are still developing. I have found that those keyboards without weight are more appealing to small children. However, if the instrument you have does have weighted keys, and there is no other option, it will be fine.
Extra sounds and rhythms are always great fun for musical children. These are fabulous to engage the budding young musician, and inspire them to compose. This is a strong positive for healthy creativeness.
The keyboard should have a power adaptor and battery powered option.
A keyboard stand for the keyboard to sit on.
A keyboard stool is best and must be comfortable to sit on at the correct height.
Places in Albury Wodonga to purchase your full keyboard kit (keyboard, stand & stool)
Blackline Music  470 Dean St, Albury (02) 6041 2451
All Music Albury 631 Dean St Albury (02) 6041 1765
Megas Music High St, Wodonga Store (02) 6056 1044
Shop online
Buy second hand