Memories of the Sheep Yards & Shearing Shed at "Edgecombe"
Musiglocks & Musikeys Concerts
Important Dates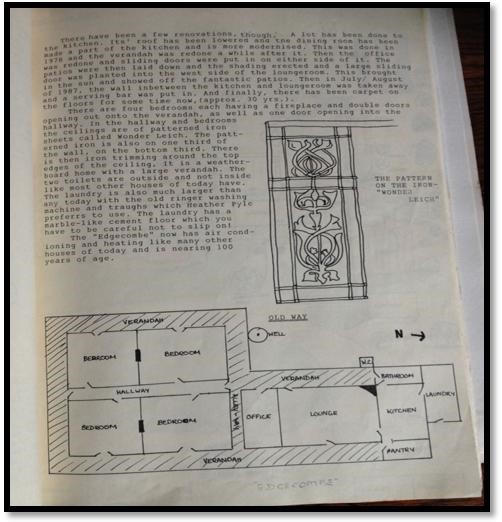 Dear Musifamilies,
When the sun begins to rise, I hear an increasing number of (lonely) dogs acknowledging early walkers. Hearing them reminds me of Dad whistling his working dogs when rounding up sheep at the sheep yards in the early morning before a day of shearing or crutching. Shearing used to go for a couple of weeks, more or less, depending on stock numbers and the weather. My bedroom with its' high, decorative pressed metal ceilings, was on the southeastern corner of the house closest to the yards. It was a good 4 or 5 iron from the house, depending on how well you hit a golf ball, of course. I welcomed the sounds. They warmed me.
In school holidays, I enjoyed trying to help in the sheep yards. I say 'trying', because I wasn't ever shown how to do it, (I don't think) or explained as to why you penned these sheep into that pen, or the one over there. I think you were just meant to know. If you couldn't work it out, then you most probably shouldn't have been there! Anyway, at the beginning of each day, I was a pack of nervous energy taking the walk from the laundry at the northern end of the house to the yards, not sure, how I was going to handle myself. This was from about 10 years of age til adulthood. The strong smell of sheep poo, lanoline and dust all mixed together would catch in your throat, at the base of your nasal passage. It was always a shock, but by the time smoko came round, you were used to it.
Dad didn't show me what to do. He probably wasn't shown either, come to think of it. He would bark at any of us like his dogs if we were in the way. Paying a compliment wasn't really on the agenda. It was a confusing experience, and you felt like you could do nothing right. Looking back on it now, maybe I wasn't very good at it, so he didn't bother teaching me. That's it! Dad knew I was a lost cause in the sheep yards! But it didn't matter. I kept trying anyway. At the end of year 10, (1987) I remember it being the best time working there. It was hot, dusty, and I was fitter to swing over the rickety fencing to get in the right places faster to steer the mob better. It was a good time. I loved the heat, the activity, and with the other kids were at school, it meant it was just Dad and I organising the sheep for crutching. I remember it well. It was pleasant having lunch with Mum & Dad just on my own. Being the eldest of 4 children, this was an almost completely rare occurrence. The other time was when Mum, Dad & I clambered into the ute with my belongings in the tray & took the drive up the Hume to drop me off in Sydney to begin Music study & city living. I remember that well too.
In the shed, it was a different story. Rouseabouting was my favourite job, because there was no standing around. If you had 4 shearers on the board, it was your responsibility to help the employed rouseabout keep it free of dags, be ready with needle & thread if a sheep was nicked, to collect, prepare and throw the fleece if possible, AND stay out of the way. It was Graeme Johnson, from Tocumwal, the head shearer and team boss who constructively explained and showed me what to do as a teenager. Maybe Dad did show me what to do, or I just picked it up observing an employed rousey from high upon the wool bales as a younger one. I can't rightly remember. It was most probably a mix.
As I grew taller, it was to the table next while the rousey or a sibling took to the floor. Although, I enjoyed the feeling of throwing the fleece. Only fleeces of wethers (castrated males) or ewes were what I could handle best. Probably because of my size. Poppy (Charles Rutherford Pyle dec.) & wool classer Lindsay Dalgliesh (dec.) taught me a little about staple length, micron, and how not to take too much off the fleece when skirting it around the table. I learnt more about wool at Hawkesbury TAFE in Western Sydney in 1996. It was a great year learning a lot about what I grew up around while teaching Music at Mt Druitt High School before coming back to this area, closer to home. It is ironic, isn't it… learning about animal husbandry & wool in the city?
I now understand why I wasn't asked back to the shed in later years. Mum & Dad probably knew it wasn't my calling. I'm grateful for that now, as each day at Musikids makes me happy and prouder of what I have achieved and who I have around me every day. The romance of the bush might not be as romantic as I thought it was growing up. It's a hard life and a huge gamble with the many variables that can change the prospect of a good (or unfortunate) year. However, I am forever thankful for the experiences and the memories that continue to shape the person I've come to be. Not only can I have it another way, I wouldn't want it any other way.
MUSIGLOCKS & MUSIKEYS CONCERTS
DATE
CONCERT TIME & CLASS
Tuesday 29th November
4pm Musikeys 1st Year

5pm Musikeys 2nd Year

Wednesday 30TH  November
12:00pm (Arrival 11:45am)
Wednesday Musiglocks Class4pm Musikeys 1st Year 3:45 pm Class

5pm Musikeys 1st Year 4:30 pm Class

Thursday 1ST December
12pm (Arrival 11:45am)
Thursday Musiglocks Class4:30pm Musikeys 1st Year
Friday 2nd December
12:00pm (Arrival 11:45am)
Friday Musiglocks Class
Saturday 3rd December
8:30am Saturday Musiglocks Class
Thursday 8th  December
4pm Musikeys 2nd Year
IMPORTANT DATES
2ND WEEK IN NOVEMBER
2017 Enrolment Information out
SATURDAY 19th  NOVEMBER
Gateway Village Open Morning 8am – 12pm (classes as usual)
SATURDAY 26th NOVEMBER
Piano Recital for Kathryn's Piano students Jazz Basement 3pm
MONDAY 28TH– SATURDAY 3RD DECEMBER & THURSDAY 8TH DECEMBER
Musiglocks & Musikeys Concerts & Last week for all classes & lessons
SATURDAY 3RD DECEMBER
Kathryn's Musimums night @ Musikids 7:30pm $35pp
I am looking forward to sharing this night with you. It is Musical, Inspirational and Motivational with surprises thrown in as always. Always a happy night, I hope you can join me celebrating the year in good community spirit. First in best dressed!