"If you believe in something so much & wake up each morning without any doubt that what you have in your hands is so precious, you just have to share it with your community!"
Kathryn Pyle  B. Music, B. Education (UNSW), Musikids Owner & Operator, Kindermusik Maestro, Licensed Encore on Keys Teacher and  AMEB Accredited Piano & Music Theory Teacher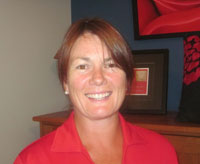 Kathryn is a fully licensed and qualified Music teacher with more than 20 years experience. She is trained and licensed to teach and provide the carefully researched and developmentally appropriate music programs that you see outlined in the class selection.
Kathryn is an enthusiastic, dedicated, and caring person, who inspires & fosters the development of music and movement in children and their families of the Albury-Wodonga region. She ensures that Musikids is the perfect place where this can happen.
Every year since 2006, Kathryn has been awarded Kindermusik Maestro status, which represents the top 1% of Kindermusik educators who inspire and reach the most children.
In 2017, Kathryn will celebrate 10 years at the home of Musikids' affectionately known as the "Slab Hut"  at Gateway Village on the Causeway. It has been 17 years teaching the Kindermusik program full time and running her own business too. Kathryn has taught piano and music theory for more than 20 years and continues to do so selectively.